Now we all know the nexus between Memons and money.. well if one community knows how to put the money where the mouth is, it is them. From building hospitals to schools and orphanages and mosques, to technical training institutes to so many other philanthropic ventures, they have done it all Yes yes there are palatial houses and flashy cars and glitz and glamour too, but besides all that, this is a community of doers that shares and cares.
So while all of Pakistani cricket lovers crib about being starved of their beloved game, they pulled open the pursestrings and launched the Memon Super League in style! And because nothing succeeds like success, are now into its second season for which the players draft has been held and 7 teams chosen who will be facing off against one another in three of Karachi's best flood lit stadia.
I can perceive some raised eyebrows from people who have known me while reading this. Not because I am waxing lyrical about a community, but because I am talking about a 'super league' .. an oldie like me, who is way out of her league at there 'player drafts' and auctions, which somehow I always viewed with a bit of distaste and suspicion.
Why? Well it is all part of my growing up process into the game of cricket. In the age of the dinosaurs (Your's Truly) Test cricket was not just the 'real' thing but it was the only thing! Even the Sunday League in England, that birthed the concept of One Day Cricket, started later (yes I know I am giving away my age by saying that).
However, rooted as i was in the cerebral contest that Test cricket was, I was still young enough to welcome and enjoy the advent of limited overs' cricket in the form of ODIs. This is why when my cricket writing idol, Omer Kureishi, whose writing and commentary had a deep imprint on my cricket learning, said that 'it was not cricket,' i put it down to him being a purist and a traditionalist.
What I didn't realize at that time was that this shortened version would be further truncated to the Americanish, slam bang T20 format! Now here I was echoing Omer Saheb, we we all called him… by lamenting, albeit weakly, that 'this is not cricket.'
But then came the IPS, BPS, PSL et all.. and i thought we had all lost our way, as sure THIS couldn't be cricket! OMG..they buy and sell players? and what's with these skimpily dressed women cavorting along the boundary line. And what in tarnations is this Power Play etc. I was keeping pace till electronic umpire was introduced but then i let go of the game that was the air i breathed and food i ate. Until these Memons drew me in, to my own surprise: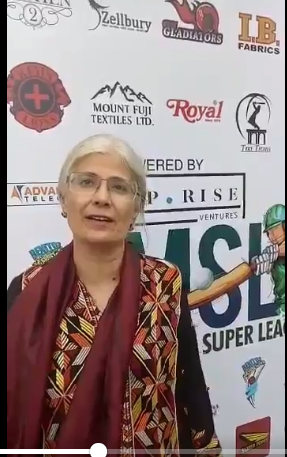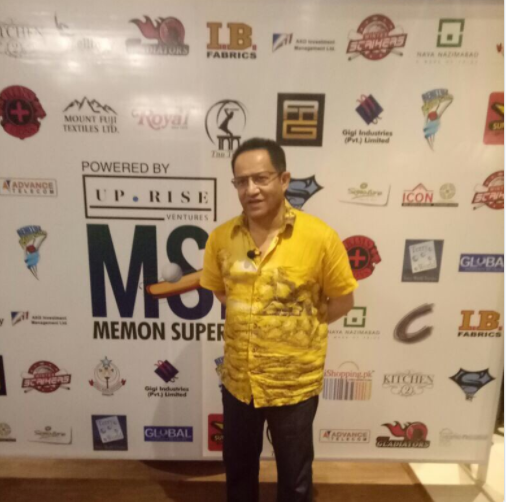 It took Pakistan star opener Shoaib Mohammad, scion of the legendary Mohammad family, who had graciously accepted the invitation to come and show support, to take me through the paces and explain to me how the entire system worked. He was familiar with many of the persons present, and felt confident that they would be able to make it a very successful tournament, given their past experience in the promotion of the game.
And when Emmad Hameed started the auction (shudder shudder) of the players, my young friend Faisal Kapadia probably saw my expression and came to explain that it isn't always about Memons and money… as the points being used by the team owners are of non-monetary value (phew).
As as i said before.. I was drawn in. Boy oh boy i thought it was just the game on the field that could get competitive but i was wrong. The auction was as competitive as it gets! Guess cricket excites emotions on and off the field. The Memons sure knew their boys, but they also roped in non-Memon players to allow the boys from their community to get the flavour of competitive cricket, and get a crack at the bigger league of the game.
That basically is the aspiration. The destination. To play in the big league with the big boys. The journey to that destination is the Memon Super League, now in its second season, and garnering support from some big sponsors who have invested to give the boys a chance to play at three of the best flood lit grounds of Karachi, the Rashid Latif Academy, The Asghar Ali Shah Stadium, and the tucked away in a corner but a very well maintained IBA stadium at the Karachi University.
With specially prepared colourful kits for the teams (Memons.. textile business.. you know.. wink wink) and attractive prizes, the boys are all set to set the grounds alight with the willow and leather. So come independence day on August 14, 2017, and we shall see a lot of engaging, entertaining cricketing activity in different parts of the city. What better way to gain independence from boredom and cricket starvation.
Yes Yes.. I admit to accepting T20 as cricket as it lights up the faces of the legion of fans this game has. Let is have cricket. More of it the better.. Theek chey?