For many years today was a day I would ring up Masood Hamid at Dawn newspaper,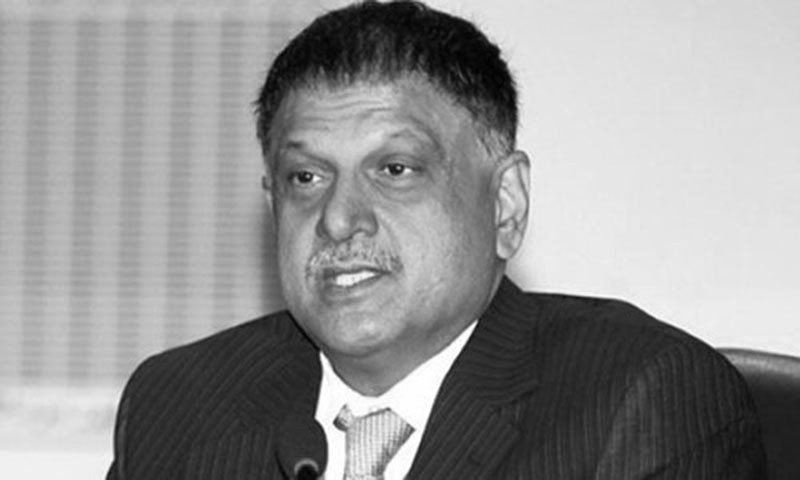 and chide him on have let one more year pass without putting in place his plans to do something 'big' on February 4, to raise awareness about cancer. He and I shared two different bonds… our fathers were friends and colleagues at Pakistan State Oil. The yearly Paya (trotters)  parties at his place were a fixture on all friend's calendars. Masood and I also worked for the Dawn media group.
Then we developed a third , very strange, very strong bond; over cancer. I was a cancer survivor, and so was his mother. As a family member and care giver, he had seen first hand what it meant, how it affected the patient and the family, and why it was so important for people, especially women, to be forewarned so they could be forearmed.
Hence those crazy calls from him at the oddest of times, when one was up to the gills in work, to 'must meet urgently.' Willy nilly I would drop everything and go, we would chalk out grandiose plans for a national campaign to raise awareness and he would put me in touch with his 'boys' in Dawn Marketing department because he was too busy in a zillion other things…. and nothing would come to fruition. Now probably nothing ever will, because he was so brutally snatched away from life, dashing all plans.
This is why instead of writing on cancer on this day, about the advances in the diagnoses and treatment, and the corresponding reduction in fear associated with the mere word, i will just send up a prayer for my friends and relatives those who fought so bravely with it before meeting their Maker, and to those who were able to overcome it. On this day I would also like to acknowledge the wonderful doctors and staff whom I had met along the way, but want to say that this is not the only day the thoughts stray their way. Bless you all… there are to many here to be named individually.
Instead of writing something new, I would like to replug two articles here. One I wrote many years ago, and one written almost a decade later by my daughter. Some people mentioned are no longer with us, some are. But one thing is for sure… World Cancer Day, is just another day… life is for living… to fight a tough fight.
So who's afraid of cancer?
By Afia Salam
http://www.afiasalam.com/html_files/core_articles.html
Four people give an inspiring account of their battle against cancer. Meet Afia Salam, editor, The Cricketer, Gul Hameed Bhatti, editor, The News, Faisal Sher Jan, CEO NTM and actress Yasmin Ismail.
"Not me, at least not any more. Cancer does not hold the same dread that it did when I was just a bystander. Two of my mother's sisters and two of my nieces had gone down fighting cancer. That's why, the moment I felt a lump, I was sure it would be malignant.
The biopsy simply confirmed my suspicion. While I was reading the report, I kept thinking, "I don't want my mother to know!" She had been through three major surgeries, eight sessions of chemotherapy, and had suffered a relapse after a three-year remission. I was afraid my diagnosis would be the last straw.
It was then that I began 'operation deception.' My husband, a cousin and my boss, Riaz Mansuri, conspired with me. Mansuri called up my mother to say that I had to go out of the city on some cricket assignment and my cousin successfully convinced her to spend the weekend together with my children at his place.
During my stay at the hospital, Mansuri kept my mother posted about my 'travel plans!' Dr. Kishwar Nazli gave me the confidence to cope with the surgery in a manner so that upon my return home, neither my mother nor my children had a clue as to what I had been through.
It was only when I visited Dr. Imtiaz Malik, that I learned the cancer had spread to the lymph nodes. I was to undergo chemotherapy which would result in complete hair loss among other related side-effects. I knew I had to come clean with my mother.
Confiding in my mother gave me the support of dua (prayers) along with her dawa (medicines). My eldest child was just nine, the middle one eight and the youngest one only three. I tried making them independent of me, in case they had to fend for themselves. But with the support of my friends and family, coupled with an excellent level of medical care, I came to grips with the situation. My mother had done it earlier and I wasn't about to give up now.
My doctor made it very clear that it was possible to function normally, as long as I didn't take unnecessary risks. That was all I needed to hear when I came out of the hospital, I firmly took over the wheels from my driver as I used to before my treatment started. And that set the pattern for the rest of my life.
I suffered severe side-effects from my chemo. I felt nauseous. The bitter taste in my mouth put me off food. My nails turned black, my skin darkened and my toes pained so much that wearing shoes became a problem. At one point, I got blisters in my mouth and all I could consume was milkshake for 10 days. Talking was extremely painful so I had to communicate with a pad and a pen. But I went to the office as usual and the magazine came out regularly. I even went to Lahore for some interviews, despite the pain. It was these achievements that gave me the confidence to do more. The most difficult thing for me to come to terms with was hair loss. I had knee length hair, which I now miss despite the compliments on my 'chic' new short style.
Two years down the road and I am doing everything I did before my brush with cancer. However, I am wary of making any long-term commitments lest I am not able to fulfil them. I have become rather possessive of my time and I prefer to stay home once the children return from school.
I am grateful to God for the support of my friends and family who have been extremely positive throughout my illness. Not everyone has that advantage and that is why there is a need to organise formal support groups who can counsel people diagnosed with cancer. We must put the fear of cancer behind us, and be more positive about it. I do fear that some day my cancer might return, but I refuse to spend my life in dread."
Gul Hameed Bhatti, editor, The News, is a heavyweight in the cricketing fraternity. About three years ago, his world turned topsy turvy with the sudden death of his wife, Razia Bhatti, founding editor of Newsline. It took Gul quite a while to come to terms with this loss. And just when he thought things were worse, life took another tragic turn: while he had no apparent health problems, there seemed to be a growth at the side of his jaw that started to swell.
"For six months, the doctor kept me in the dark. They couldn't figure out whether this growth was serious. And this despite the fact that I had been going to the head of surgery of the country's top hospital. In fact I had been told emphatically that the tumour was benign.
When I was referred to ENT surgeon Musheer Hussain, the first thing he asked me for was the report of the biopsy. He was extremely surprised to learn that none had been carried out. He was extremely surprised to learn that none had been carried out. He sent me off for a biopsy. When the report came, he tried to break it to me gently saying that it was positive, and that the tumour was indeed malignant.
After the surgery, I was told that the cancer had spread to the shoulder area and they had 'cleaned' it all up. The oncologists agreed that I needed no chemotherapy, but only radiation, which Imran Khan insisted I get done at the SKMT hospital.
This was a big decision, for with Razia no longer there, it meant leaving my children, Sara and Kamil alone. It also meant being away from my job for well over five weeks. Our maidservant stayed with the children throughout, while the management at the newspaper told me to simply concentrate on getting well.
SKMT in Lahore was remarkable. I went for radiation five days a week, and came twice to Karachi for the weekend to be with the children. After the radiation sessions ended, I couldn't talk properly for days. The pain-killers didn't seem to work and I had problems sleeping on my back. However, I knew this was a temporary condition which would go away Ð and it did.
Though there were no formal support groups, my son, especially, was a real help, and for the sake of my children, I put on a positive front. Am I afraid the cancer might return? Well, if it does, I will get it treated again. The only thing that worries me is that my children will be left alone if something happens to me but if God wants me to be there for them, I'll be there."
Faisal Sher Jan seems to be in a perpetual hurry. Meeting deadlines is what life is all about, and he isn't about to miss any just because he has cancer. Most of his professional problems surfaced about the same time as his disease, and he had to battle on two fronts at the same time..
"When I went in to have a check-up for a stomach problem, I knew it might be cancer, for my father had it. In fact, we have a history of colon cancer. The oncologist was very blunt and made no promises. But he did tell me that I had to undergo chemotherapy.
I wasn't really afraid because of the tremendous support from my family and friends. It helped me to be a very positive attitude about everything and just eight days after my surgery, I was battling in the court for NTM. In fact, I had a lesser reason to be negative about it than my mother, who had to bear the trauma of seeing not just me, but my two sisters, diagnosed with the disease at about the same time. If anyone should have cracked up, it should have been her but she has been strong and calm throughout and this helped us to be strong too.
If I hadn't been diagnosed with cancer, probably my sister's cancer would not have been detected either. She went for her check-up after my diagnosis, and was detected positive. We've had a tough time as a family. A few months later, my elder sister too had to undergo surgery. It's having the right mental attitude that has helped us through.
My treatment has been interrupted because the drugs were affecting my heart, but I am going about my job as usual. My sister goes to Shaukat Khanum Memorial Trust Hospital to counsel patients who are to undergo a colonoscopy, for that is a traumatic procedure. Talking to her has helped many overcome their fear.
We have good doctors who can help the patients keep a positive attitude and live life to its fullest."
Yasmin Ismail is a name synonymous with television and stage. A gifted director, Yasmin's Grip's theatre plays have provided some delightful moments for children and adults. Cancer stalked Yasmin stealthily, for ovarian cancer does not really have any symptoms…
"My first reaction was of disbelief … after all, cancer is a dreaded disease. I was apparently very healthy, and was working quite normally. However, I was having a lady coming in to massage me because my stomach felt distended. After that, everything happened so quickly that I had no time to think or react. My tumour burst and the liquid filled the entire stomach. The very next day they operated on me, and it was then that the doctors discovered that I had stage III cancer.
After the surgery, I had to undergo chemotherapy. It was quite a bad experience both emotionally and physically. Hair loss was tough to cope with, though, I did get around with wigs and even did plays wearing them. I reacted rather strongly to the chemo, for I felt miserable. With successive cycles, I lost interest in socializing.
But my commitments pushed me to meet deadlines. Once I was in bed feeling quite ill and the entire cast of a play we were staging for Civil Hospital was sitting in my bedroom rehearsing for it. Since it was for a worthy cause, I made the effort.
While the going was tough, it helped to talk about it. I know there are a number of people who hide it, and I wonder why. the wealth of support I received by being open about it is unforgettable. Being a known face, I came across so many people who could come up and say they included me in their prayers. It was really a wonderful feeling.
Soon after my chemo, my mother too was diagnosed as having breast cancer. Despite knowing that it ran in the family, I was not mentally ready when I suffered a relapse.
At present, I am not cancer-free, but I am feeling much better. And this is why you see me directing and acting in plays. I do believe that one shouldn't be afraid of treatment. the doctors are there, the treatment is there, and people with cancer must shed their fear. That is the only way to overcome cancer."
Mind Over Matter
It is with a sense of déjà vu that I write this first-person account of my brush with a name that instils fear in most hearts but has been like a subconscious presence for me for the past 12 years or so. I had done just that exactly a decade ago in this very magazine, and had also narrated personal stories of three other known persons coping with cancer at that time.
Of them, sadly, Yasmin Ismail, that talented theatre and TV artiste, is no longer with us for the disease overcame her, and Gul Hameed Bhatti, the doyen of cricket journalists, passed away earlier this year after a period of poor health due to repeated strokes. Mediaman Faisal Sherjan has been cancer-free despite other medical issues.
These past 12 years have seen me moving from the category of a cancer patient to that of a cancer survivor, but in these very years, this disease has crisscrossed my path in many different ways. It took my mother away, and I have known it to affect the lives of so many people I have known, and am witnessing a dear friend and her family battling with it bravely.
So where is the story in this? The story is that each cancer case is a story in itself; a different experience for a different person and the overarching moral of this story is that it is a case of mind over matter. And these are not mere words. The entire story is about management – of the disease – and of those dealing with it first- and second-hand.
This is a disease that has to be battled on all fronts. On the front of knowledge, information and awareness, on the front of the calibre of oncologists and treatment options available, on the psychological and social front, due to the terrible strain on the patient and family, and last but certainly not the least, on the financial front, as that, despite the presence of places like Shaukat Khanum hospital, is a drain on resources few patients can cope with.
Why I count myself lucky is that I had support on almost all those fronts. I was able to put mind over matter and live a life as normally as possible. In fact, I achieved a lot more in my post-cancer days than pre-cancer, as earlier one takes time for granted. Now I was able to focus and only go for the important things, and important people in my life.
Friends and family were the Rock of Gibraltar, while work was the therapy, and my young children, the youngest being only 3, the incentive to stubbornly disregard the fact that this disease could be a limiting factor.
And this is where one realises that in the absence of support groups, one has a definite role to play, even if on an informal personal level. Having cared for my mother throughout her battle with cancer, and having gone through the treatment myself, I was able to assume an advisory role.
Not that this was easy, the first step being the most difficult one – trying to get people to cross the hurdle of the trauma and shock and getting them to agree to see a specialist. It is amazing how many people simply slip into a fatalistic mindset and out of fear of the side effects, refuse to start treatment. Getting people past this hurdle took a lot of explaining, cajoling, pleading, and even deceiving. This was one judgment call I always view with apprehension, for to deceive someone by not telling them the nature of disease yet getting them to undergo treatment does not really rest easy on the conscience.
But in this case, forewarned is really forearmed. Knowledge that the discomfort, aches and pains are related to the treatment regime may be small comfort physically, but at least mentally one knows that it is temporary. Besides, some treatments lead to some other problems – in my case ostopenia – so one has to learn how to deal with that as well and start taking care of oneself in yet another manner. It stops me from going off on field trips to hills and valleys like in my 'younger' days, and even though I hate the thought of seeming like the begum sahiba who makes others carry her bags, I have to, or my joints and bones would give me a talking to.
What one has to remember is that this is not a 'one size fits all' scenario. Each person is affected in a different way by the same drug, and has to develop his or her own responses. This is something even the caregivers need to understand and not go by the stories they hear from 'others.' Existing general health before having cancer, plus the socio-psychological factors all come into play and, of course, they are different for different persons.
As far as the fear of it returning, well, I know that with the strong familial link, there is always a chance that it will return, but I would rather consider the 12 good years I have spent as a glass half full and cross that bridge when I come to it. The best thing is that I have seen my children develop a similar mindset, and so of course, I do not really have any cause for complaint from life.
Running in the Family
Cancer is a word I have been familiar with and heard in my home nearly my entire life.
In the case of my my grandmother, I have seen the grimmest side of cancer and memories of her with the illness are flooded with images of drips, injections, doctors and hospitals. But through my mother, a breast-cancer survivor, I came to see that cancer did not mean the end of life.
A workaholic and always on the go, my mother continued her daily routine as before, but cancer, combined with its immediate treatment – chemotherapy – and long-term treatment – a regular course of medicines – took its toll on her physical health. Had it not been for the headscarf she started wearing after her chemo, I would not even have known that she had been diagnosed with cancer. But as I grew older, I began to understand the implications of this illness. She no longer had the physical stamina to go on working and taxing her body as before. Also, she became more susceptible to picking up the smallest of illnesses, and something as simple as a flu or a cough hit her far worse than it did anyone else.
It was during my mid-teen years that I really awakened to what cancer was, and what it meant for us as a family. With my grandmother and two of her sisters, my mother and my maternal aunt, all diagnosed with either ovarian or breast cancer, all indicators point towards this being a genetic disease, putting me, so to speak, next in line. Although I haven't as yet been tested for BRCA 1 and 2 – however I do intend to do so – the fact that so many close relatives have had cancer puts me at high risk for getting it.
So what does this mean? Two things: what I must do in a medical capacity and what social concerns I have to deal with. As far as medical goes, annual screening has to begin at the age of 18. And so I did. However, I cannot get a mammogram until the age of 40. But knowing I run such a high risk of getting it before that age, having to wait till 40 is not very comforting, so you want to know what else can be done.
Ideally, as recommended by doctors, I should – and this goes for all women who are high-risk candidates – get married at an early age and complete my family by the age of 30, and get a hysterectomy immediately. But at 18 one's response to this is: really, how can you plan these things?
In addition to that, the reason why many families do not disclose such a medical history is out of fear: Who will marry our daughter? I have been fortunate enough to be married into a family who is above such biases, but there is a lot more that needs to be thought about.
Completing a family before the age of 30 poses a likely challenge to education and career advancement. Dreams of achieving so much in little time do face a setback. Also, nobody tailors their life in a manner where one has decided that they will get married at 24 and have a kid at 25 or 26. Relationships and life in general cannot be planned in that fashion. Besides, you are not the only person whose life this affects or whose decision it is to make. Your partner features most obviously in it. What 'must' be done sometimes stands in direct opposition to what one 'wants' to do, for both you and him. In addition, getting a hysterectomy at 30 or earlier inevitably means osteoporosis and arthritis – an additional psychological factor to deal with until the illnesses manifest themselves physically.
But what being exposed to cancer has done is to numb me from fear to some extent. Of course, sometimes it arouses fear, especially when you feel unwell, but otherwise, the possibility of getting it is not something you live with every day of your life – it doesn't weigh you down like a burden every passing moment.
However, those who are at high risk and feel it may be a disease that runs in the family should be vigilant, and get themselves tested for the BRCA 1 and 2 as well as get themselves screened regularly. I don't know myself how I would react to testing positive in the gene test, but I do know from all the cases before me, early detection is better than late, and can lead to less pain and a better quality of life.