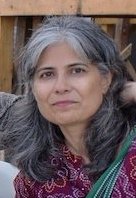 Media consultant and trainer, content developer/editor, documentary concept and script writer, presenter/producer
Resume
Name: Afia Salam
Media consultant and trainer, content developer/editor, documentary concept and script writer, presenter/producer
Education: Masters in Geography from the University of Karachi.
Languages: Urdu-English
Associations:
a) Vice President, Sindh Chapter, Citizens' Media Commission of Pakistan, a media watchdog body
b) Advisor, Helpline Trust, a consumer rights organization
www.helplinetrust.org
c) Advisor, National Forum for Environment and Health
www.nfeh.org
d) Associate, HASWA, Healthcare and Social Welfare Association
www.haswa.org
e) Trustee, Saneeya Hussain Trust
www.saneeyahussaintrust.com
f) Member, Greener Karachi Trust
g) Member Board/consultant, Bolo-Bhi
www.bolobhi.org
Member: Media Advisory Group for Uks Media and Research
(www.uksresearch.com )
Member FPCCI (Federation of Pakistan Chambers of Commerce and Industries) Standing Committees on Environment, Human Rights and Consumer Protection
Member: Arts Council, Karachi
Member: All Pakistan Music Conference
Traveled to:
UK: for a personal visit,
France: as part of a media team invited by Airbus Industrie,
UAE: To cover the inaugural Dubai Air Show
Japan: As creative head of the advertising agency handling Toyota's launch in Pakistan
Hong Kong: As resident for a year
Singapore: Personal visit
Thailand: Visited Regional HQ as head of IUCN Pakistan's Education, Communications and Outreach Unit, to plan strategy for Pakistan
Vietnam: As LEAD Pakistan Cohort delegate to International Conference on Community Based Adaptation- CBA-6 in Hanoi
USA: As delegate to the Internet at Liberty Conference held by Google
Currently working as free lance journalist and media trainer, especially in the field of Environmental journalism.
Have facilitated media training workshops for environmental journalists on behalf of IUCN, and Pakistan Press Foundation with UNESCO, on 'Impact of mining on the environment' for LEAD Pakistan, On election reporting for Intermedia and Democracy Reporting International, Communicating Climate Change for LEAD and Henreich Boll Stiftung, and developed training module for Internews. Have also completed the Training of Trainers on GE4DE, (Gender Equity for Decent Employment) conducted by International Labor Organization and Child Sensitive Reporting by Intermedia and UNICEF.
Awards Jury:
Have been part of the jury for media awards for environmental journalism for:
National Forum for Environment and Health's AEEA.. Annual Environment Excellence Awards
(www.nfeh.org.)
National Environmental Reporting Awards
Agahi Joualism Awards by Mishal Media ( www.agahiawards.com/2012/evaluation-committee/ )
Part of Cohort 16 of LEAD Pakistan's Leadership Development Programme, working to complete the Fellowship on the theme of "Transition to Green Economies"
http://www.lead.org.pk/ldp/selected_candidates.htm
Previous Work Experience:
Senior editor of www.speakforchange.org and producer and anchor at www.247onlinetv, Pakistan's first organized web tv channel. Was host of the Afia Salam Show, co-host of Off the Cuff, and producer of Hum Awam.
Programme Coordinator, Sindh, Imran Khan Foundation
(www.imrankhanfoundation.org.pk)
Tasks performed:
• Administrative head of the Programme office in Sindh, set up to undertake rehabilitation of flood victims in Thatta district.
• Responsible for liaising with UN and government agencies,
• identification and assessment of beneficiaries,
• community dialogue,
• assessment and short listing of implementing partners,
• identification of land and completion of legal formalities of land purchase for resettlement of the beneficiaries,
• handling and distribution of relief supplies,
• report and record keeping.
– Coordinator, Communications and Outreach, IUCN-Pakistan. (International Union for Conservation of Nature) www.iucnp.org
o Tasks performed included:
• Developing communication strategies for different programmes and projects
• Developing brochures, reports, presentations and documentaries
• Event Management
• Media outreach and PR
• Editing and review of Communication and outreach print and electronic material (bilingual)
• Media trainings/workshops as facilitator, coordinator
-. Senior Copy editor, head of the Culture Desk, and content manager for Daily Breakfast@Dawn, the flagship morning show at Dawnnews, Pakistan's first English language television channel (www.dawnnews.tv)
– Over 30 years experience of Urdu and English journalism/advertising, working for/writing in some of Pakistan's leading publications like The Dawn, Star, The Cricketer, Newsline, Aurora, Slogan, The News on Sunday.
15 years experience of the advertising field. Creative head of Blazon, Blitz-DDB and Argus Advertising agencies.
– Event management, media relations for clients of respective agencies, as well as an independent Media Relations consultant.
Electronic Media:
o Senior Copy Editor at Dawnnews, Pakistan's first English television channel
o In charge of copy bulletin and reports copy
o Content manager for Daily Breakfast@Dawn , the morning show of the channel
o Head of the Culture Desk, responsible for the art & entertainment segment
Coordinator/Interviewee/fixer on behalf of Eastern Television News for:
o AlJazeera Arabic
o ARD German Television
o and ZeeTV
Print Media
o Executive Editor of Energy Update, Pakistan's first dedicated energy industry magazine
o Editor of The Motor in Pakistan magazine
o Editor of The Cricketer English magazine, Pakistan's oldest dedicated cricket monthly
o Executive Editor of Wings, Pakistan's leading Defense and Aviation Monthly,
o Editor of Pakistan Cricket Board/Pakistan Tobacco Company publication Wills Cricket Annual
o Writer/Editor of "25 Greats of Pakistan Test Cricket"
o Collaborator/editor/producer of Little Master Hanif Mohammed's autobiography, "Playing for Pakistan" and launch ceremony souvenir
o Editor/producer of Mushtaq Mohammed's autobiography, "Inside Out," and launch souvenir
o Editor of Women's Cricket International
o Editorial consultant for Panorama Pakistan, quarterly publication of Export Promotion Bureau, now Trade Development Corporation of Pakistan (TDAP)
o Writer of children's books for Vision Printers…
o Pathway to Paradise
o Miswaak
o (http://www.visionprinters.com/MISWAKE_INTERNAL.HTML)
o Editor/translator ( from Urdu to English) of books:
o Following Prophet Mohammad's way
o Little Preacher
o And I died
o (www.visionprinters.com)
Newsletters:
o Edited the newsletter of Engro Corp., Collage
o Editor/producer of TEAM, (bilingual) in-house magazine of Lever Brothers Pakistan (now Unilever)
o Editor/producer PSO Vision, (bilingual) in-house newsletter of Pakistan State Oil
o Editor of Kaizen, newsletter of Toyota-Indus Motor Company Ltd.
o Editor of Grapevine, in house newsletter of Blazon Advertising
o Editor of Storyboard, newsletter of Argus Advertising
o Edited Depot Daak, (bilingual) newsletter of Shell depots
o Edited the "Ismaili" magazine
o Edited some issues of the magazine of the AKU Student's Union
Editing/Proof Reading:
Have done proofreading of manuscripts for Oxford University Press
Edited the 2009 Sustainability Report of Engro Corp.
Edited the 2010 Annual report of IDSP (Institute of Development Studies, Pakistan)
Freelance copywriting
o Corporate brochures, collateral publication material for:
o Vision Printers
o Mint Printers
o Zoom-in Advertising
o And individual clients
Advertising:
o Manager Creative Services, Blazon (Pvt.) Ltd
o Creative consultant for Advertasia, Pakistan's first Internet advertising agency
o Consultant Creative Director Argus Advertising
o Creative Director and Director Special Projects Blitz-DDB
Event Management and PR:
Handled major events of national and multi-national clients while working in the field of advertising. Most noteworthy were:
o All product launches of the Toyota Corolla and Hilux in Pakistan, plants visits by VVIPs, media teams.
o VVIP visits to Shahdadkot Textile and and Naudero Sugar Mills for Pakistan Industrial Development Corporation (PIDC)
o AutoXpo in Islamabad for Pakistan Auto Parts and Accessories Manufacturers (PAPAAM)
o Launch of the Alif Green Cabs by Transmission Motor Company
o Annual Environment Excellence Awards by NFEH (National Forum for Environment & Health)
o CNG CONEX by Publicity Channel
o 3rd. National Conference on Consumer Protection by Helpline Trust
o Two day conference on 100 Years of Radio organized by Citizens' Media Commission of Pakistan and JJ Media
o 1st. LPG Conference in Islamabad by Publicity Channel
O Exhibition of photographs titled "Echoes of the Tide" for Catus Digital
O Media Coordination for Seminar on "Experience Sharing on Mangroves Management" by Human Resource Devlopment Network
Documentaries and Commercials:
o (Concepts, scripts, shoots, production, editing coordination)
o Al Falah Volunteer Trust
o Shahdadkot Textile Mills (for PIDC)
o Toyota-Indus Motor Company
o Transmission Engineering Industries Limited Corporate film for Hanover fair
o Documentary on Women and Water for IUCN Pakistan
o Documentary on Ecotourism in Balochistan for IUCN Pakistan
o Documentary on Mangroves and Livelihood
o Documentary on Juniper Forests in Ziarat, Balochistan, for IUCN Pakistan
o Afia Salam Show and Off the Cuff on www.247online.tv
o and numerous commercials of clients of agencies worked for
Freelance writing:
On cricket, environment and social issues in the following publications:
Jasarat, Leader, Star, Dawn, Newsline, The News on Sunday, She, Good Food, Women's' Own, Dawn Review, Akhbar e Watan, Dawn weekend magazine, Aurora, Slogan, blogs on www.speakforchange.org
Web content development:
o www.amanut.org
o www.ionicsalts.com
o www.educationbay.edu
o www.blitz.com.pk
o www.nfeh.org
o www.publicitychannel.com
o www.energyupdate.com
( I do not know how many of them are still active)
Also trained and worked as an Air Traffic Controller by the Civil Aviation Authority and served at the Karachi Airport from 1983-86
Some samples of my earlier work (up to 2000) can be viewed on http://afiasalam.com and http://afiasalam.wordpress.com. Most of my current web based work can be viewed by writing afia salam in the search field of www.speakforchange.org and www.247online.tv