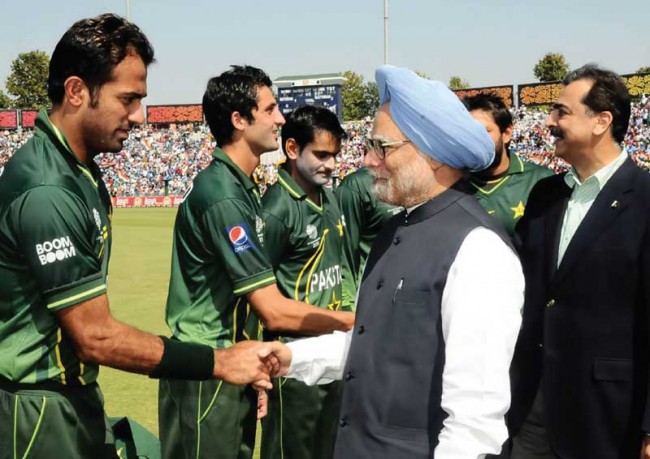 The resumption of a much awaited bilateral series would ideally call for celebration. But in this instance, the feeling of having been shortchanged is inescapable…
So what is it about an India-Pakistan cricket series that brings on the ultimate adrenaline rush for billions in the sub-continent — this teeming mass of humanity who own up to having an alternate religion — cricket! This is the force that binds us, while at the same time, dividing us into two very partisan, polarized nations. Nations that carry heavy baggage of history that makes the keenly contested Ashes between England and Australia seem like a tea party in comparison.
In this part of the world, cricket is more than a mere sport. It is a passion that lifts people to the highest levels of euphoria when their team is winning over the 'arch rival' and drives them to the depths of despair when it is on the losing end. The players are demi-gods when hot, and worse than criminals when not! Cricket has also been used as a tool for diplomacy when nothing else would work to thaw relations that resembled the polar ice cap.
It has also had the ability to melt hearts and open minds to welcome people from across the border in a display of genuine warmth, all the Shiv Senaiks on 'that' side of the BRB Canal and protagonists of perpetual enmity on 'this' side notwithstanding. For countries that emerged through a river of blood, which continued to flow through two full scale wars and many and frequent skirmishes due to festering, unresolved issues between them, it was always a difficult task to forge relations at another level.
However, after the Seventies the new thought emerged that normality could not be restored while sitting across a military or diplomatic table. People had to become friends. Thus Bishen Singh Bedi brought his team to Pakistan for a series in 1978, ending a 13-year drought, and opened the floodgates of warmth and affection between the people of the two countries. Mind you, the underlying motive for the series may have been political, as those were the days of dictator Zia ul Haq, who managed to be present during most matches. But politics took a back seat and cricket, and cricket lovers emerged as winners in a pulsating series which Pakistan won comprehensively.
Visa regime was relaxed and special arrangements were made for Indian fans in the stadiums, and in Lahore, many came directly from the train station to the stadium, all with bag and baggage, and saw the match before heading into the city to find boarding and lodging. While most of those who came were cricket fans, many came to go see their ancestral homes from where their families had migrated during Partition. Many a tear of joy and sorrow were shed when they went into the old city and met their or their parents' neighbours who welcomed them with open arms. They were plied with gifts not just by those whom their elders had known but by the ordinary shopkeepers who wanted to contribute to this spirit of hospitality and friendship.
On the field, the relations between some of the younger players may have seemed strained, but the fact that Bedi, and Pakistan's skipper, Mushtaq Mohammad were best of friends and county mates at Northamptonshire kept things under control, even jovial despite the victories Mushy's crafty captaincy made possible. Many other players also had played English county together so the entire series achieved the objective of thawing, and improving relations, especially on a people- topeople level.
But this was a nostalgic trip down memory lane. A lot more water has flown down the BRB since then. We have had Kargil, and then Ajmal Kasab in Mumbai who did no-one any favours, and then the most ignominious of all, the attack on the Sri Lankan team in Lahore in 2009, which turned Pakistan into a pariah as far as playing host was concerned. No-one was willing to visit, certainly not a high profile team like India, despite many contractual agreements at the ICC and bilateral level. Pakistan also found itself out in the cold as far as the jointly staged World Cup was concerned and its coffers started to run dry, creating more bad blood. Now, that a series has been announced for December this year, and everyone's hopes have been raised for a resumption of cricket ties that may result in better relations between the two countries, why are so many nay sayers emerging?
In the din of excitement over seeing two of the world's most exciting teams play against each other, not at aseptic, neutral venues that Pakistan had had to settle for, let us not drown out the voices of caution. We must really see whether this series will be all that great a thing. Granted we have had Bal Thackery of Shiv Sena threaten to disrupt matches in Mumbai before. Some fanatics did dig up the wicket. But he has been around, and matches have taken place willy-nilly. But do not forget, that the other son of Mumbai, Sunil Gavaskar, who carried a reputation as an ardent supporter of Pakistan and its players on many international forums, has also opposed the series on the grounds that Pakistan is not cooperating with the Mumbai attack investigation. On Pakistan's part, former captain Rashid Latif has also sounded a note of caution. He says instead of getting all excited about this almost-series, Pakistan should get India to resolve the unsettled issue of revenue sharing.
This is something India has been procrastinating on. After the Mumbai attack, India had cancelled its tour to Pakistan, which was a great financial setback for the Pakistan Cricket Board. Despite repeated calls for revival, and security assurances, India had refused to visit, and did not even agree to play at any neutral venue. Now, even though the invitation for this stop gap series, which is to be played while the visiting English players go home for a quick Christmas break, has come from BCCI, no revenue sharing formula has been worked out. This is despite forecasts of revenue generation to the tune of billions of rupees which is a given whenever these two teams face each other.
One has also not heard of any concrete or special measures to facilitate visas so the 'people-to-people' element is not taken care of either. Yes, the Pakistani players are starved for cricket, but that does not mean that the PCB should jump at such half chances as are being offered by the Indian board unless and until there is a clear advantage to our board and the players. We also have to keep in mind the statements emanating from the Indian government officials that this invitation has been on a board-to-board level. The government had nothing to do with it. However, it does not mean that the government will have nothing to do with it, as the final go-ahead for the tour will come from the government.
Make no mistake about it! So while the cricket nut in me is excited at the prospect of seeing the boys pitting their skills against the traditional rivals, in front of a capacity crowd in a charged atmosphere, a nagging voice inside the head tells me that I should go easy on the plans to stock junk food and shield myself from any pressing assignments during the match days.There's many a slip between the cup and the lip; while there can be no better spectacle than an India-Pakistan cricket match, in view of the above reservations, we really have to ask for this particular series, 'what's so great about it anyway?'
This article was originally published on PIQUE.