When one visits someone in the hospital, the conversation usually is about the hows and how are yous, doctors, medicines, and what have you… besides of course  expression of good wishes for the patient and prayers for a speedy recovery, and offer of assistance to the caregivers.  Hardly, if ever, it veers too far away from the topic.
Well I was in for a different lesson in my hospital visit to see a very dear person who has been very ill. I also realized that while in Urdu, if something becomes a distinct character trait, we usually say 'yeh uski ghutti mein hai;' the closest phrase to it in English is the contemporary term of something being a part of the DNA! I know it is usually said as a form of exaggeration, but how true it actually is hit home today.
The legendary cricketer Hanif Mohammad, our Little Master has been very ill, and hospitalised for days. Yes he has been battling cancer, very bravely, but what got him into the hospital was a severe chest infection, because of which he was barely able to speak. Aggressive treatment and admission to the special care unit stablized but exhausted him out, so that he was in a deep sleep for hours.
The visitors too were careful, talking in barely audible whispers so as not to disturb him. However, as he opened his eyes, he spotted former Pakistan captain Mohammad Yousuf standing by his bedside and after the greetings and inquiries about the health were over, launched into a purely cricketing discussion, reminiscing about when he almost got a century in each innings against Australia, thwarted by a bad umpiring decision, which of course he didn't contest and walked off, but which was admitted to by the opposition players as well.
While his son Shoaib attempted to take charge of the conversation by recounting the incident, Hanif Mohammad, who had woken up when our conversation had probably risen above the level of whispers, was absolutely lucid in his interjections. The drawl in his voice was there due to the weakness but there was not a hint of uncertainty about the games of long ago. I immediately understood that this clarity was because  it was cricket he was talking about which was in his ghutti… in his DNA… which no illness could alter!
Call from another Pakistan captain, Zaheer Abbas meant that the conversation stayed the course, with Hanif Mohammd complimenting  the caller by reminding him of his title of Asian Bradman and of his several double centuries. Such clarity after serious illness? Deep drug and exhaustion induced sleep? Nah! put it down to DNA!
And then came Gilchrist in the room… that fearsome West Indian pacer, the nemesis of all batsmen in the line of his lethal projectiles.
Aided by Shoaib, Hanif Mohammad took us on a trip down his memory lane to that glorious match at Barbados in the West Indies where he not only faced the fearsome Gilchrist, but walked right into the record books with his knock spread over 999 minutes… erroneously written in the Wisden as 16 hrs. 10 minutes.
(The actual duration of the longest innings to date in Test cricket has been mentioned as 16 hrs 39 mins … with its entire commentary etched onto a Lon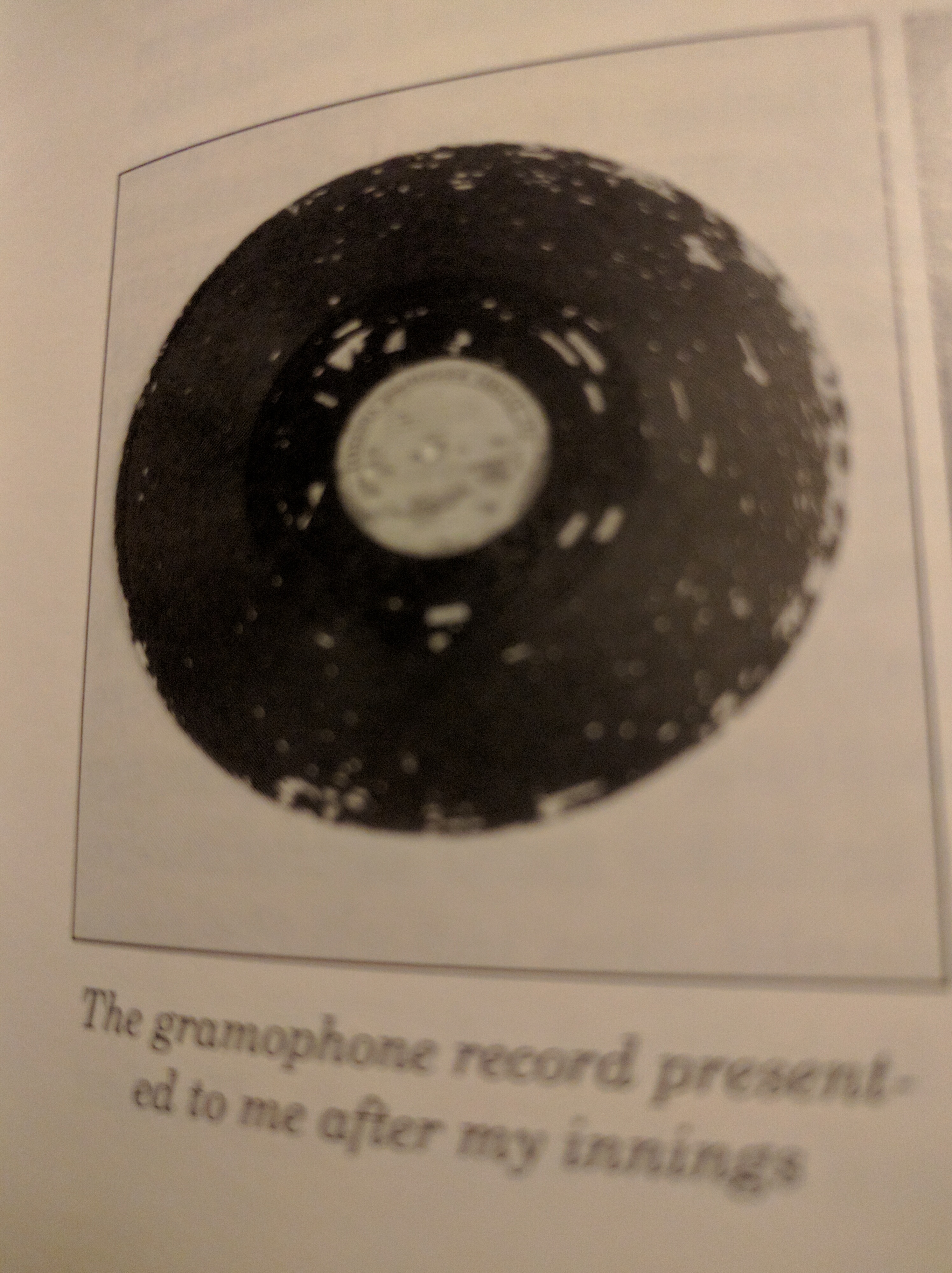 g Play record presented to him after the match.)
Innings that started with Pakistan in dire straits, following-on with a deficit of 473 as the score card would show, a familiar situation for the young Hanif Mohammad.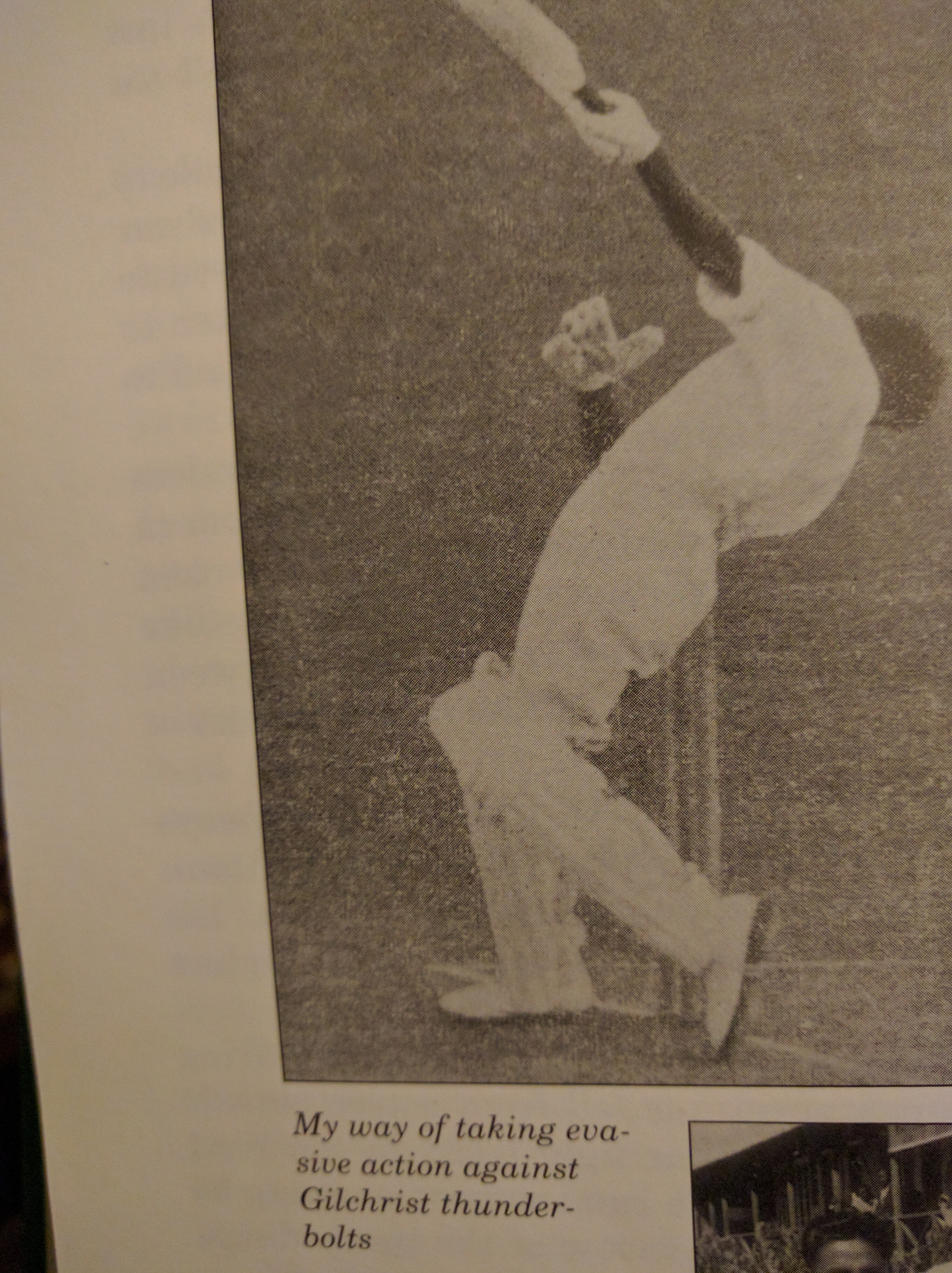 He faced the pacers any which way he could, in the days of folded towels inside pockets serving as cushioned guards, and flimsy (by today's standards) pads, NO HELMETS, and certainly no No Ball calls from the umpires to the beamers aimed at the head by Gilchrist each time his ball was hit for a four!
Gilchrist was the stuff of every batsman's nightmare, with arms dangling down to below knees, and a fiery temper spurring his catapulting of the ball out of his hands at speeds hitherto unknown. Hanif recalled with a chuckle how even a slight touch of the bat would make the ball race to the boundary, simply because it came at him with such great speed.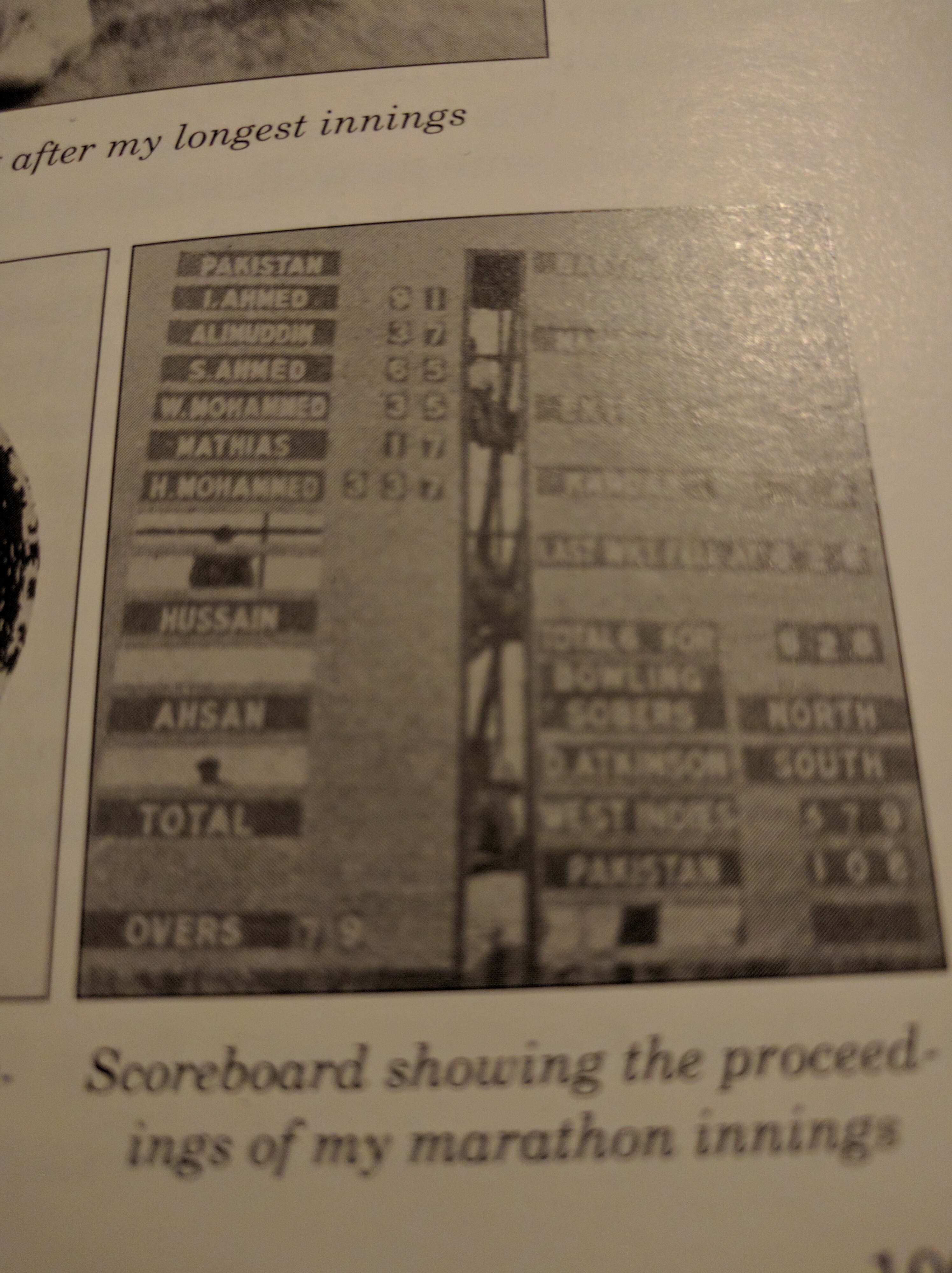 The father and son recounted Gilchrist's vile temper which ultimately led him to being jailed for assault and battery as he had hit his wife with an iron! And to think that our diminutive  Little Master faced him and his ilk of equally ferocious fast bowlers simply on the dint of his determination and technique.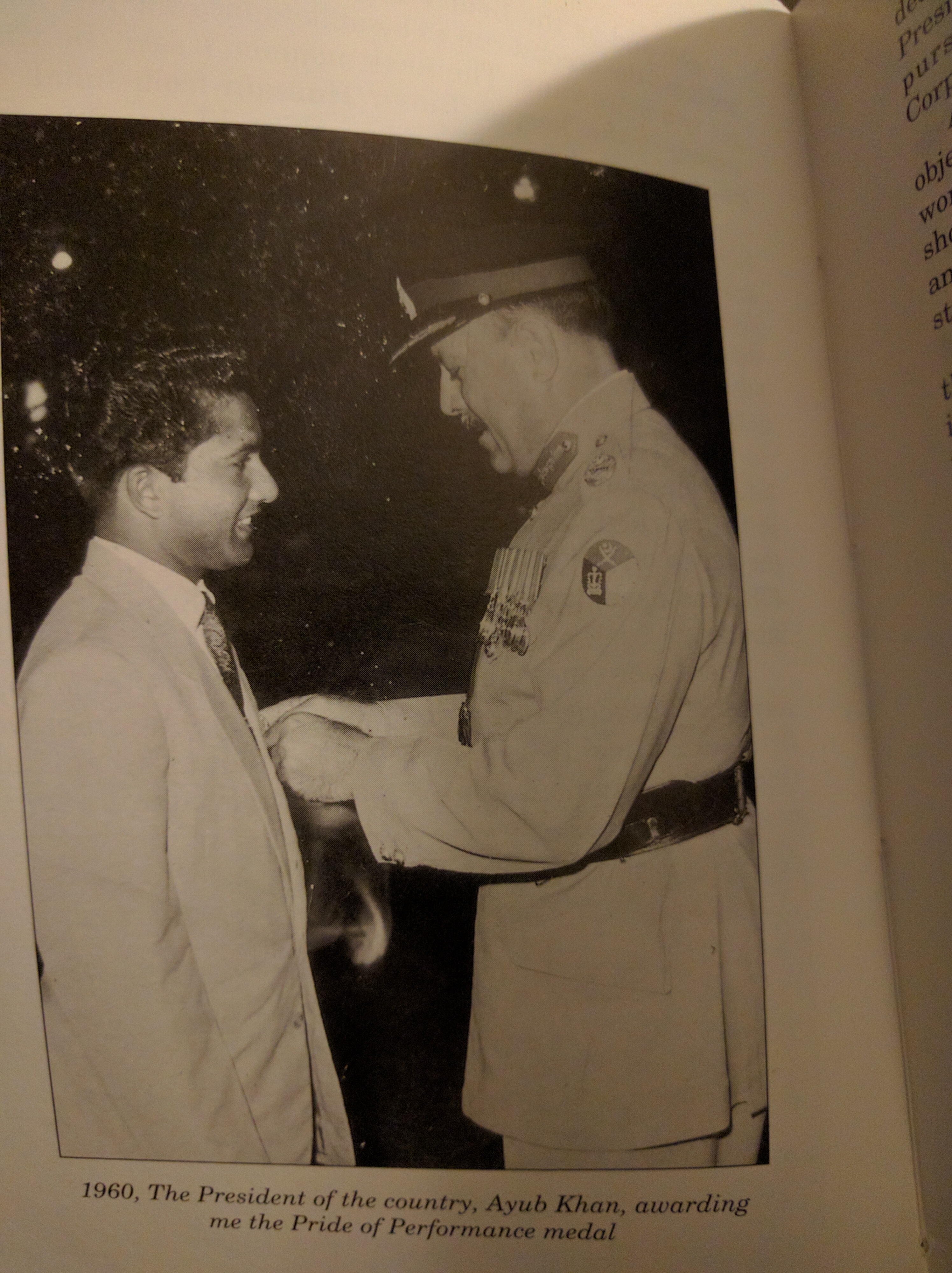 This firmly established him as the mainstay of Pakistan's batting line up and earned him accolades across the cricketing world and recognition at home from the highest quarters. 337 with 26 fours, 16 threes, 40 twos and 105 singles were no mean feat!
Between his daughter in law Shazia and my exhortations to him not to speak too much, I couldn't suppress a smile on his very matter of fact answer 'well he didn't really get to hit me on my pads' (of course… perfect technique after all) when Shoaib asked if Gilchrist's deliveries hit the body!
DNA again eh? The frailties of the physical body have done nothing to the sharp mind and wonderful memory. Get well soon Hanif Bhai. May we accompany you on many more of these trips down memory lane.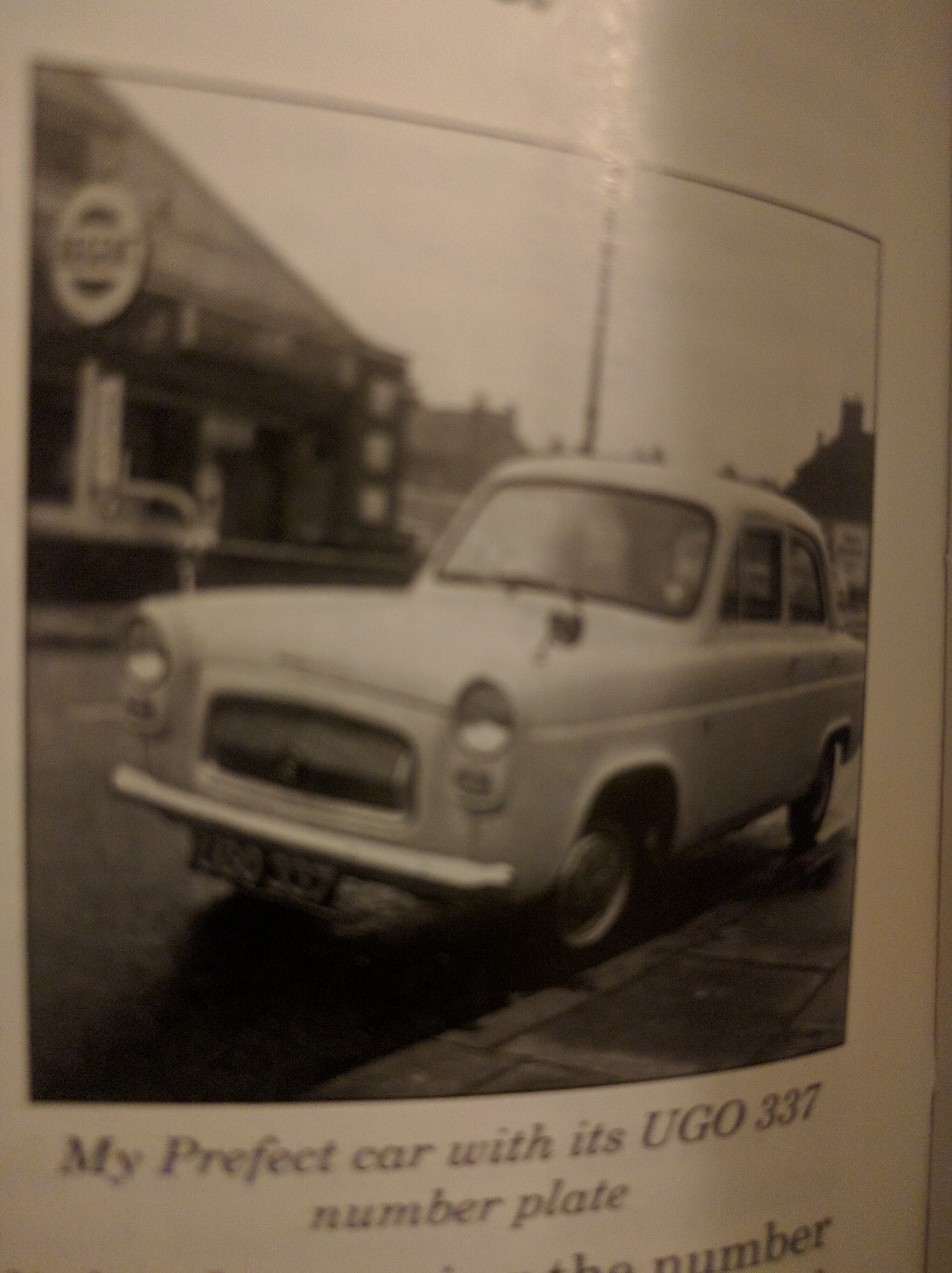 All pictures from Hanif Mohammad's autobiography "Playing For Pakistan"