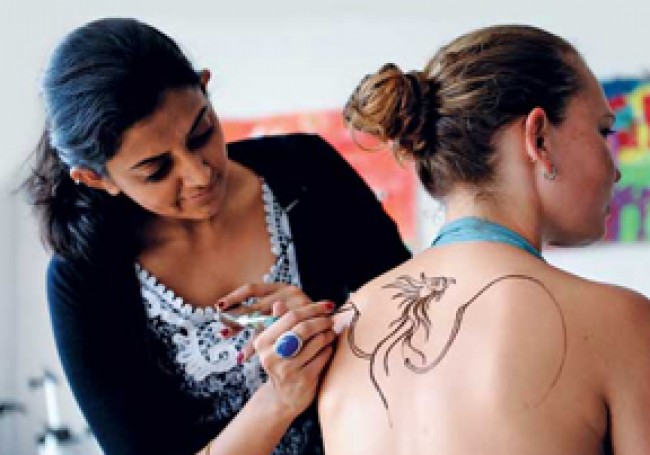 It's easy to be consumed by commercial success. but Sara Mushtaq has carved out a niche — as an artist and philanthropist.
She is a vivacious young woman who thinks the journey is more interesting than destination, and she is willing to savour each and every step of the way.
Having left Pakistan for Hong Kong at the age of 10, she seems to have imbibed the vibrant multiculturalism of that city in her personality.
Sara Mushtaq, an entrepreneur still in her twenties, has transformed something as traditional and simple as henna or mehndi application virtually into an art form. In doing so, she has crossed the cultural divides that had confined it to just the Arab world and Indo-Pakistan subcontinent, and introduced it to an international audience that has been captivated by its possibilities.
After completing high school in Hong Kong, Sara went to the prestigious Loughborough University in the U.K., and studied graphic design and event management for travel and tourism industry.
Back in Hong Kong, she joined the publishing industry, but the creativity within her was just spilling over, and she decided to experiment with the simple medium of henna.
It all started with her putting up a stall at handicrafts fair. Eager to unleash her creativity, she had to literally, drag people off the street by luring them with a promise of a free demonstration.
Once she 'had' her subject, there was no looking back. The Chinese audience, which was totally uninitiated, was captivated with the intricacy and beauty of her designs, and the next day, just through word of mouth, and pictures of some work executed the previous day, Sara's Henna had arrived! Just 30 tattoos fetched over HK$1800!
Her reputation grew manifold; to the extent, she had to give up a steady job in the publishing industry to pursue this as a career. She hasn't regretted it for a moment.
There were competitions, workshops, fairs, fashion shows, and of course, weddings and Eid fairs. Sara was making good money, having fun and even got the chance to pack her mehndi cones and head to Malaysia, Thailand and China on bridal henna appointments!
Sara soon had big names like Karen Millen, Dolce & Gabbana, PWC, HK Mag and Op Smile under her belt.
Word of mouth and social media are still the only means used by her to showcase her work and get more orders. The enterprising lady keeps experimenting with new and unique ways to use this traditional medium.
For children's parties, she developed a gel by mixing make-up colours, glitter and body paint so they could have the tattoos of their choice, but still be able to wash them off before heading to school.
Intricate mehndi patterns also started appearing on items as diverse as jewellery boxes, cupcakes and three-tiered wedding cakes. Having found a good supplier in Karachi, whose quality she swears by, she now concentrated on developing motifs and graphics according to the theme of the event.
However, being the creative person she is, Sara was not content with just becoming a commercial success.
As part of her social outreach, she held henna workshops for daughters of poor workers who were not allowed to step out of the house to improve their financial status, and also used events as fund raisers for organizations in Pakistan, like The Citizens' Foundation for their schools.
That is when she came across the Canada-based organization, Henna Heals, https:/www.facebook.com/hennaheals which works with cancer patients who lose their hair during chemotherapy. Volunteer artists of this organization go and draw beautiful henna patters on their heads which make them look, and feel good.
Sara entered an international competition inviting designs for the crown meant for cancer patients, and in a worldwide poll, her designs got the most votes. She made sure her designs would be feminine, yet have a look of strength to show the courage of these cancer survivors.
She is part of an offshoot of this organization, known as Henna Heals International Referrals https:/www.facebook.com/groups/hennahealsinternational/ wherein Henna artists across the world are sent references to people willing to have them make these Henna crowns in their own cities.
Sara is in Pakistan and planning to do the same for cancer patients, especially children, and when back in Hong Kong, will do it there, too.
What is important to note is that all the henna or mehndi used for the cancer patients conforms to very strict standards of ingredients that do not react adversely to their already sensitive skins. That is why only natural ingredients are used, and it is made sure that the mehndi is free of PDP (purified protein derivatives) so that it is absolutely safe to use.
It is this possibility to use the medium of mehndi to bring joy to those who are weighed down by the dread of the disease that motivates Sara and she is looking for opportunities to be able to contribute to their happiness by letting the creative juices flow.
Her designs work intricately in the theme of every event — be it a children's party, a wedding function, or a catwalk event. They have made people sit up and take notice of the range of possibilities offered by this very visually opulent medium.
With her winning the competition of a programme like Henna Heals, where she pitted her artistry against some of the world's best artists and came on top, she now feels another kind of a sense of fulfillment, which goes beyond the happiness of seeing her venture become a commercial success.
It also shows the way to other talented youth to really get out of the box and explore opportunities that can earn them name, fame, and fulfillment. The only investment they need is faith in themselves, and presence on social media, and perhaps, they, too, can set out on a journey that can take them on a scenic route.
This article was originally published on PIQUE.